Splinter (2006) Dark Horse Indie, Image Entertainment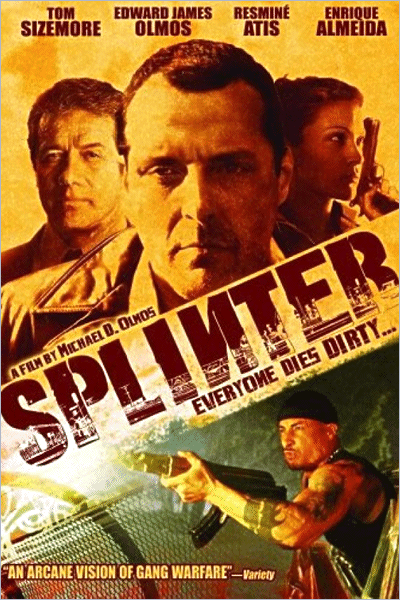 On the mean streets of LA, two gangsters—Dreamer and Dusty—unite over the mysterious murder of their brother. Dreamer, with the bullet that killed his brother still lodged in his skull, is desperately seeking revenge when he crosses paths with Detective Gramm, a confident rookie cop partnered with corrupt veteran Cunningham. Amidst a rising body count and the threat of an all-out gang war, the four characters lock themselves in a brutal endgame as they discover who among them is creating the chaos.
---
Credits:
Directed by: Michael D. Olmos
Executive Producers:?Mike Richardson, Enrique Almeida, Chris Tongue
Producers:?Mark Hall, Michael D. Olmos
Writing credits:?Enrique Almeida, Adrian Cruz, Michael D. Olmos
Cast:
Tom Sizemore: Detective Cunningham?
Edward James Olmos: Captain Garcia?
Ivonne Coll: Mom
Enrique Almeida: Dreamer?
Resmine Atis: Detective Gramm?
Noel Gugliemi: Dusty?
Dallas Page: Detective Stiles?
Delilah Cotto: Vanessa?
Emilio Rivera: Jesse (Veterano)?
Adam Rodriguez: Private Martinez?
Hector Atreyu Ruiz: Trigger