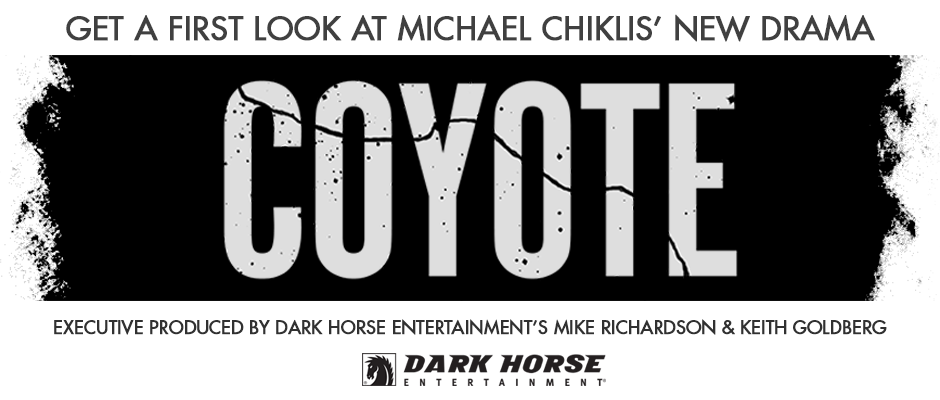 Dark Horse Entertainment is gearing up for another big television debut! 
Coyote
, starring Michael Chiklis, comes to Paramount Network from MacLaren Entertainment, Dark Horse Entertainment and Sony Pictures Television. The pulse-pounding drama is executive produced by Mike Richardson and Keith Goldberg, and is set to premiere in 2020.
"While most of our shows and movies come from our own library, in 
Coyote
, we found an original idea and character that were undeniable and attracted this incredible creative team," said Mike Richardson, Dark Horse Entertainment's President and Founder. "We are genuine fans of Michael Chiklis and Michelle MacLaren, and we couldn't be more excited about this show." 
Mark Feuerstein (Prison Break, Royal Pains) and Kelli Williams (The Practice, Lie to Me), are set for key recurring roles opposite Michael Chiklis. Rounding out the recurring cast are Daniel Mora (Coco), Emy Mena (The Whisper of Silence), George Pullar (Playing for Keeps), Amy Forsyth (Rise, The Path), Ross Phillips (Heart of Dixie), Romina D'Ugo (12 Monkeys), Bobby Daniel Rodriguez (SEAL Team), Natalia Cordova-Buckley (Agents of Shield, Bates Motel), Jose Pablo Cantillo (The Walking Dead) and Drew Powell (Gotham).