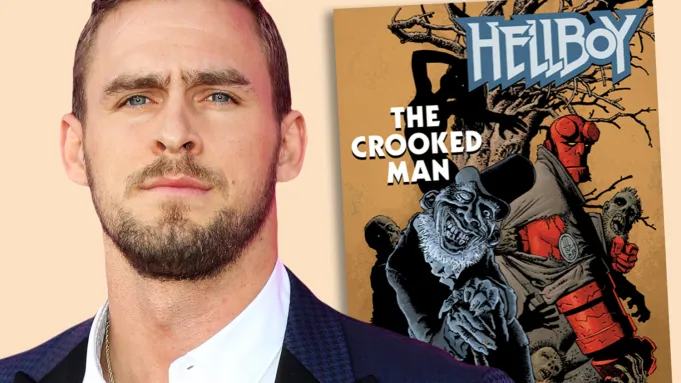 via Deadline

Ketchup Entertainment has landed the rights to Millennium Media's latest Hellboy pic HELLBOY: THE CROOKED MAN starring Jack Kesy in the titular role. The superhero horror movie is a reimagining of the franchise based on the Dark Horse Comics character of the same name, created by Mike Mignola. Directed by Brian Taylor, the movie follows Hellboy and a rookie BPRD agent as they get stranded in 1950s rural Appalachia, only to discover a small community haunted by witches, led by the Crooked Man.
"We are very excited by this latest acquisition, this film holds a special place in the hearts of fans worldwide and we are committed to preserving and building its legacy as we bring the film to fans and new audiences," said Ketchup Entertainment CEO Gareth West. "We are confident that our collaboration with Jeffrey Greenstein and the exceptional team at Millennium Media will enable us to achieve just that," continues West. The film also stars Jefferson White, Adeline Rudolph, Joseph Marcell, Leah McNamara, Hannah
Margetson, and Martin Bassindale. Marking a major milestone in Hellboy feature adaptations, Mike Mignola, creator of the comics, has penned the script alongside his Dark Horse comics collaborator Chris Golden. The story will expand Hellboy's world through one of the most beloved issues of the comic series.
The film is a Millennium Media production in association with Dark Horse Entertainment, Campbell Grobman Film, and marks the first film in Millennium's development slate with German film and TV distributor Telepool, owned by Will and Jada Pinkett Smith. Producers include Dark Horse Entertainment's Mike Richardson, and Millennium Media's Jeffrey Greenstein, Jonathan Yunger, Les Weldon, Rob Van Norden, and Yariv Lerner. Sam Schulte co-produces on behalf of Millennium Media.
Mignola, Millennium Media's Avi Lerner, Trevor Short, Boaz Davidson and Tanner Mobley,
Telepool's Michael Müllner and Julia Müntefering, Campbell Grobman Films' Lati Grobman and Christa
Campbell, and Ketchup Entertianment's Gareth West, Artur Galstian and Vahan Yepremyan executive
produce.
"At a time when content is never more in demand, it's exciting to partner with a group who is not only passionate about movies, but who are also stepping up to distribute the types of commercial films that we believe audiences crave. Despite all of the changes in the marketplace, it's refreshing to start building a pipeline with Ketchup and we are excited to build upon this first film together," added Greenstein.
The acquisition of Hellboy: The Crooked Man represents Ketchup Entertainment's continued
expansion in the entertainment industry. This iconic film franchise will join Ketchup Entertainment's
impressive portfolio of projects, which most recently includes their May 2023 release of the Ben Affleck
film Hypnotic.