The Umbrella Academy premiered on Netflix on February 15th and was met with huge critical and commercial acclaim. In its opening week The Umbrella Academy was the biggest digital show in the US! According to Parrot Analytics, a data analytics firm who believe they offer the most accurate measure of demand for TV worldwide, demand for The Umbrella Academy grew exponentially over opening the weekend, as shown in this chart, which compares The Umbrella Academy to the rest of the current top 10.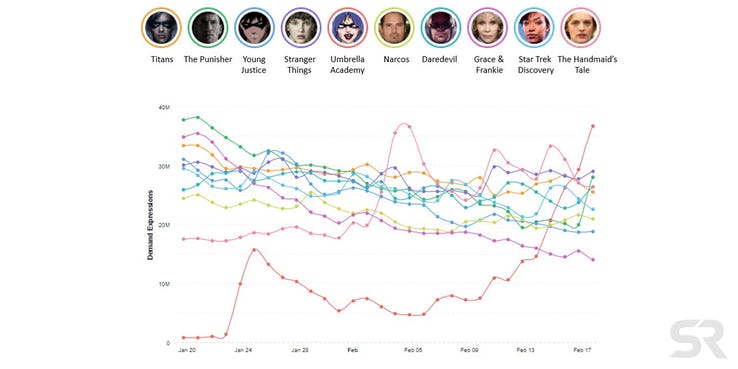 When it rains, it pours. Meet The Umbrella Academy! A dysfunctional family of superheroes comes together to solve the mystery of their father's death, the threat of the apocalypse and more. Adapted from the Dark Horse comic created by Gerard Way and Gabriel Bá. Check out the comics that inspired the hit series!
The critics have spoken! The Umbrella Academy is a must-watch!
"The show is every bit as good, as delightfully odd, and as touching as the comic." -Vox.com
"While the title might evoke images of dark clouds, the forecast for Umbrella Academy actually looks pretty bright." -CNN
"The Umbrella Academy is incredibly interesting, enjoyable, quirky, and well worth your time." -Collider
Watch The Umbrella Academy on Netflix! Check out the trailers below.