Virus (1999) Universal Studios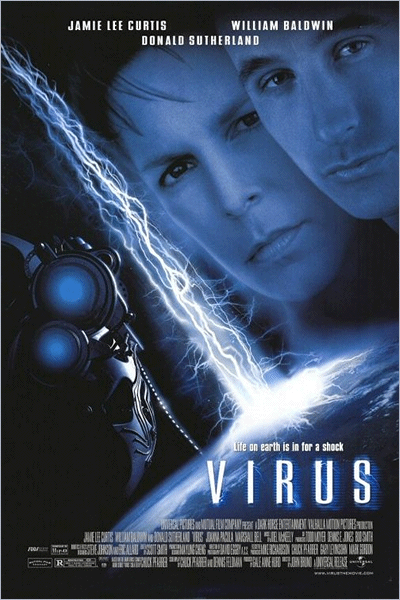 This terrifying science-fiction nightmare stars Jamie Lee Curtis, William Baldwin, and Donald Sutherland. The crew of a crippled, oceangoing salvage tug is caught in a typhoon and must battle to stay afloat. With their ship slowly sinking, the crew seeks refuge in the eerie calm of the storm's eye. Hope rises when a Russian science vessel approaches. Surprisingly, the ship seems deserted. The crew of the Sea Star, however, soon find themselves stalked by a mutating alien life form that has traveled to Earth from a far-off galaxy. The creature is powerful and intelligent, and it has found a perfect home. But first, it must destroy the "virus" called man.
---
Credits
Directed by: John Bruno
Producer:?Gale Anne Hurd
Executive Producers:?Mark Gordon, Chuck Pfarrer, Mike Richardson
Co-Producer:?Dennis E. Jones, Bud S. Smith
Writing Credits:?Dennis Feldman, Chuck Pfarrer
Based on the Dark Horse comic book created by Chuck Pfarrer
Cast
Jamie Lee Curtis: Kit Foster
William Baldwin: Steve Baker
Donald Sutherland: Captain Robert Everton
Joanna Pacula: Nadia Vinogradova
Marshall Bell: J. W. Woods Jr.
Sherman Augustus: Richie Mason
Cliff Curtis: Hiko
Julio Oscar Mechoso: Squeaky